Some days I wake up and I can tell if it's a taco day or not. Today wasn't one of those days and I wasn't counting on eating any tacos but driving down Venice blvd I noticed the yellow Tacos Junior truck. I couldn't pass up an opportunity to scratch another westside taco destination off my list so I pulled over.
Tacos Junior is a taco truck at Venice Blvd and Sepulveda that parks nightly at 6pm in front of an appliance store. It's closest competition is Tacos Chatos which is west of Sawtelle on Venice Blvd. Both Tacos Chatos and Tacos Junior allied together to defeat their arch enemy Taco Bell which is now in rubble.
taco bell is being turned into a dickies store
Tacos Junior has your usual suspects of meats: al pastor, carnitas, lengua, cabeza, asada. They were out of al pastor so I ordered two carnitas tacos and one asada taco.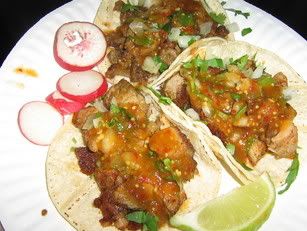 look closely...I think that's baby Jesus on one of my radishes
The carnitas was crunchy with thick cuts of pork. Not usually how I like carnitas. I prefer a more juicy shredded approach but these tacos were pretty good and the salsa roja added some juice and kicked up flavor to the taco.
The asada was far too salty and I could barely get through the taco. It was only out of fortitude that I was able to eventually finish the taco and not even a lime jarritos could wash away the salty after taste.
The verdict? well I'd order the carnitas again and maybe even the asada to see if the saltyness was an anomaly. I'm curious about the al pastor and I'll most likely be trying Tacos Junior again.

Tacos Junior is at Venice Blvd and Sepulveda after 6pm. Tacos are $1 each