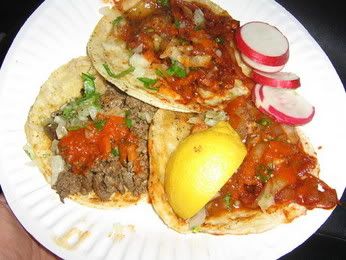 hey taco lovers
I just got back from Rudy's Tacos in Culver city and I think I've found my new favorite taco truck.
It's hard to see from the main blvd but if you're looking close enough you'll see the flood lights shining down on this taco truck at Venice and Melvil(one block east of Cataraggus). They come out nightly at 5:30pm and stay open til 1am. Weekends they stay open until 2am.
I couldn't get a photo of the actual truck because of the amount of people hanging out in front of it but the actual truck wasn't much to look at anyways. It's what inside that counts and these guys really know how to prepare tacos. They specialize in tacos and in fact tacos is all they sell. Tacos de lengua, asada, suadero, pastor, carnitas, cabeza, sesos. They do it all.
I ordered asada and al pastor. The asada was finely cut with a spicy salsa roja on top of warm fresh tortillas and the al pastor was juicy and covered with carmalized onions. The salsa roja and the sauce from the al pastor blended together to make an incredibly tasty sauce.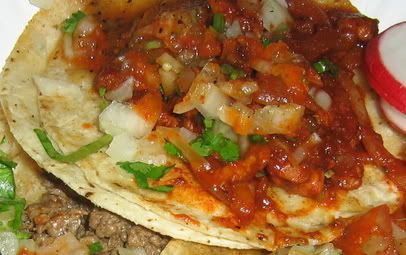 There is something special about a truck that only sells tacos. There's also something special about a taco truck that lets you eat your tacos before you pay. These guys are so confident in their product that they know after eating a couple of their tacos you will want more. Which I did.
I've been waiting to "dos mas" since I started this taco hunt. I finished my last taco, nodded to the cook in approval and said "dos mas por favor" to which the cook replied "de que amigo?"
"de pastor con todo"

Rudy's Tacos is at Venice Blvd and Melvil, Culver City. Tacos are $1.15 each