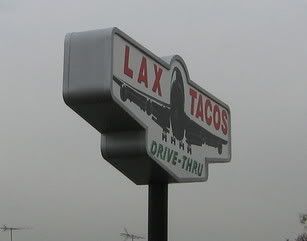 LAX tacos is a taqueria I've read much about but havn't had a chance to check out. On my way home from LAX airport I decided the time was right and headed down Arbor Vitae in search of this taqueria. I was happy to find a drive thru because I was tired and was going to get my tacos to go anyway.
When I got home I emptied out my bag of tacos on the table, opened a bottle of corona and got started. My tacos came with a bag of pickled carrots and jalapenos which is always a plus. The carrots were finely cut and very nice.
As far as the tacos there were high points and low points. The carnitas was crispy but lacked the juicy flavor I look for with great carnitas. The dryness of the carnitas couldn't be saved by an underwhelming salsa roja. Same goes for the chicken which was boiled and tasteless.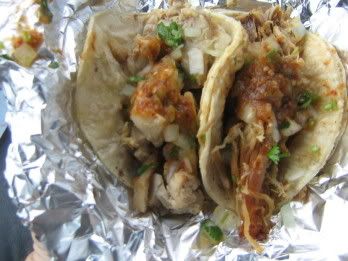 chicken and carnitas tacos
The carne asada was passable but there wasn't alot of flavor to it. The beef was tender but had it's share of gristle and there was nothing that stood out with me that made this anything but average.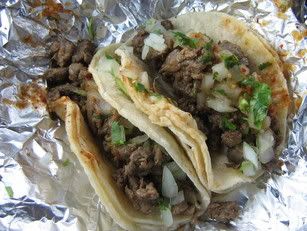 carne asada tacos
The fish taco was light and flaky and really good. While the fish wasn't crunchy it still was very pleasurable with a light garlic flavor and at only $1.25 quite a steal.
fish taco
The adobada was also good but really salty. There was alot of flavor and the juices from the pork soaked into the tortilla and made for an enjoyable taco . The pork went well with my corona but I'm not sure if I didn't have the corona to counter the saltyness that I could have handled it.
LAX tacos has recieved alot of hype but I'm not sure why. While some of the tacos were enjoyable I certainly wasn't swept off my feet. I realize that my opinion may be a reaction to the hype and for a taco joint LAX serves it's purpose by cranking out tacos packed with meat at an affordable price. LAX is a respectable taco joint but by no means worth the hype.

LAX tacos is at 543 W Arbor Vitae St, Inglewood. Tacos $1.25