greetings taco lovers!
I've been under the weather lately and my taco adventure took a backseat to thai lemongrass soup and halls mentho-lyptus. But I'm re-energized and back in the saddle again and on the taco trail to find the next great taco.
So I was in the mood for some carne asada and acting on a tip I recieved via email I headed to Chanos on Figueroa near downtown LA. Chanos is a place I've driven by often but have never stopped to check out. It's a local hangout for USC students and has a reputation for good quick mexican food. They also have burgers and pastrami on the menu but I came for the asada tacos.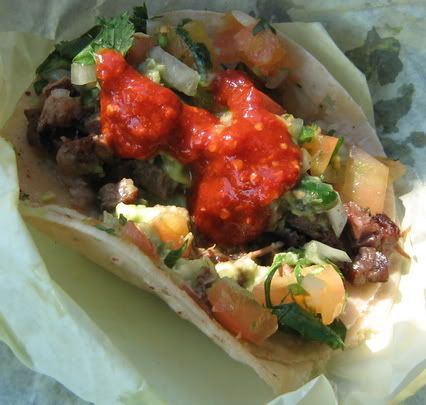 My tacos came with juicy strips of seasoned skirt steak, pico de gallo and a light guacamole salsa on top of a two large corn tortillas. On the side I had cups of salsa roja which I liberally spread over the tacos.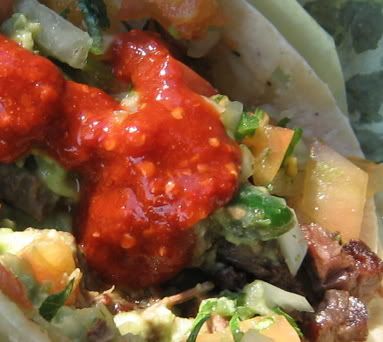 The juicy steak and the light guacamole salsa were the perfect compliment to the spicy salsa roja. The salsa roja had alot of kick to it and made me reach for that cold beverage more than once. Although these tacos were $1.50 each they were big tacos and came with a lot of fixings and were well worth the price.
There is an addictive quality to these tacos. I'm not sure if it's the charred strips of asada or the spicy salsa roja but there is some magic going on between the soft corn tortillas.
If you're ever in the area and in the mood for carne asada tacos I highly reccomend Chanos. If you're too lazy to get out of your car they even have a drive thru.
Chanos is at 3000 S Figueroa 90007 , Tacos $1.50 each