Sometimes taking a wrong turn ends up being the right turn. Since I've started this taco hunt I have been taking different routes home from work hoping to find taquerias and taco trucks I wouldn't normally know about. Not only has this allowed me to come across new taco establishments it's also brought a bit of serenity to my life. I'm no longer the guy that curses out other drivers on the 10 freeway.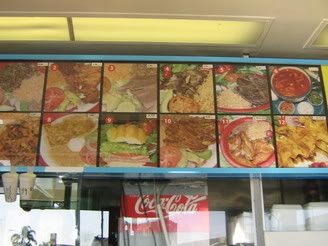 And this is how I came across Taqueria Jalisco on Washington Blvd(3 blocks east of La brea). This taqueria has a full menu of mexican fare as well as tacos and burritos. There's no bulls head mounted on the wall but there is a portriat of Pancho Villa which ranks a close second in intimidation factor.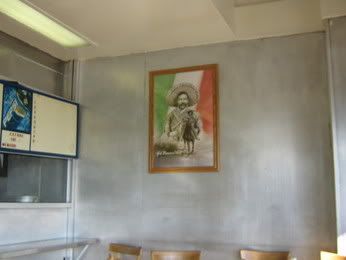 I ordered 3 asada tacos.Each taco came with onions, cilantro and a mild picante salsa that was quite tasty. I'm partial to that spicy salsa roja that makes me reach for a jarritos but this picante salsa had some nice flavor to it. As far as the rest of the taco the tortillas were oiled just right and firm and the beef was salted and tasty but a bit on the fatty side. There was a bit too much gristle and the trust I like to have with a taco was broken and I found myself plucking out fatty bits before sending the taco to my mouth for consumption.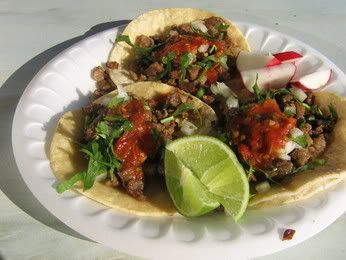 In the end the tacos didn't overwhelm me but they did quench my taco thirst for the time being and I will try Taqueria Jalisco again to see if this gristle experience was an oddity or if it's a common occurrence.

Taqueria Jalisco is at 4755 W Washington Blvd 90016. Tacos are $1 each