When writing a blog solely about tacos it's hard not to be repetitious. But what makes the taco such an interesting food is that even though the ingredients may be the same(tortillas, meat, salsa) it can be interpreted in so many different ways. Since I've been on this taco journey I've found it interesting the way some taquerias choose to prepare their meats compared to others. I've had thick slabs of beef and pork and I've had finely chopped and braised cuts of meat. I've had salsas that make me sweat it out and wimpy salsas that make me yearn for that chile pepper Homer Simpson swallowed that made him hallucinate. I've had it all man but I can't get enough. I love tacos.
This curiousity towards the taco is why I stop at every taco truck and it's how I found myself at Tacos Juanita's at the corner of 3rd and Western. I wasn't ravenously hungry but I'm a taco reporter and I saw signs of taco activity.
The menu kept it simple with carnitas, asada, al pastor, cabeza and lengua to apply to taco, burrito or torta. One of these days i'm gonna give cabeza another go but on this night I stuck to asada and al pastor.
I sat back and watched the operation go into full effect as the meat was thrown on the grill and smoke billowed out of the top of the taco trailer. Tubs of condiments sat on the counter connected to the trailer and I spooned some salsa and onions and cilantro on my tacos. They also had a salsa verde and some whole jalepenos as well as radishes and marinated carrots.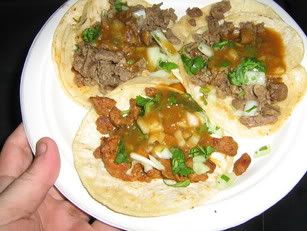 As far as the taco triangle these tacos passed the test. The tortillas were firm and oiled just right and the beef was salted and tender without any gristle. The salsa had a little spice to it which was good and overall I really enjoyed the asada.
The al pastor lacked the peppery and bbq flavor that I look for when it comes to great al pastor.It was passable but when compared to El Matador up the street it wasn't in the same ballpark.
Overall it was a positive taco experience. The beef tacos were enjoyable and the salsa added to the flavor of the tacos. They're open late so after you're making a fool of yourself at the karaoke bars in koreatown swing by Tacos Juanita's for the asada tacos. Noone wants to hear you sing "Delilah" anyway.

Juanita's Tacos is at the SE corner of S Western and W 3rd st Los Angeles, 90020 Tacos are $1 each open nightly at 7pm
Rate Tacos Juanita's