When the sun goes down the streets of East LA come alive with taco activity. Outlaw taco carts set up on the sidewalks in front of auto shops,parks and discos and grill everything from carne asada to chorizo to al pastor. I found one such taco cart at 3889 E Cesar Chavez Blvd(corner of gage and cesar chavez)and rubbed elbows with all walks up life from businessmen in suits, to gents in cowboy hats and youths in baggy shirts and attitudes.
Al pastor was the star of this outlaw taco cart(as it is with most). A hunk of glazed pork on a spit twisted in front of a fire while the cook cut slices of pork from the spit on to the grill. The pork sizzled next to grilled onions and the magic began. Two soft corn tortillas soaked up the pork grease as the cook scooped the sizzled charred al pastor and carmalized onions into the taco and on to the plate.
I attempted to take a photo of the al pastor spit and other meats that were grilling but the women collecting the money looked at me and motioned not to do so. This is understandable considering these taco carts are illegal and probably violate every health code known to man. That's not saying any of the fare isn't fresh,it most likely is as fresh as your average daylight taco truck or more so.
I drizzled some salsa and onions and cilantro on my tacos and after the first bite I'm taken to a place I've never been before. The taste of the charred pork and carmalized onions and the sweet bite of the salsa is not one I've had . I've had my share of al pastor but this al pastor was on another plane. It was amazing.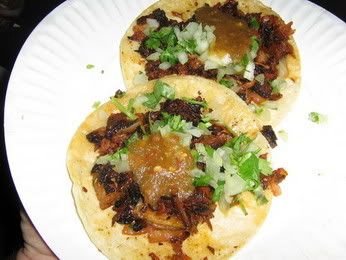 This is what this taco hunt has been about. Finding these taco havens and becoming a more savvy taco eater in the process. Sometimes the city moves so fast that we need these occasions to soak in the night and slow it down with a plate of tacos on the sidewalk with the sound of salsa music blaring out of a nearby disco.
This is why Los Angeles is a taco town.

3889 E Cesar Chavez Blvd 90033. Tacos $1 each