After the holiday break(oops sorry Bill O'rielly, I mean Christmas)I was back on the taco hunt. It's funny how before this taco hunt I was always hesitant to go to westside taquerias. I live on the westside but I would always get my mexican food east of La Brea. All this time these great taco places have been right under my nose and I never had the sense of adventure to try them. Perhaps the unfair stigma when it comes to taquerias on the westside influenced me but now that I'm on a taco hunt I'll try anything and I've become a more complete taco eater for it.
So I walked into Don Felix, a taqueria on Sawtelle and Washington blvd and ordered some tacos. Don Felix is a taqueria adjacent to a carneceria and market of the same name and your able to place your order inside the market.I ordered two al pastor and one asada taco and popped open a lime jarritos and sat outside taking in the winter Los Angeles sun until my order number was called.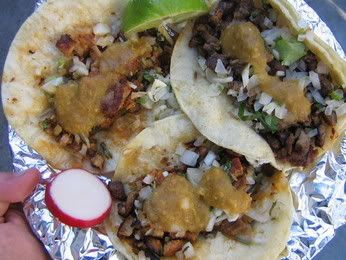 My tacos came with a spicy habanero salsa that made me curl up into a ball and want my mommy. After a few bites the cold lime jarritos I was drinking was almost gone and the sweat from my brow started to run down into my eyes. Emeril Lagasse must have been in the back with the habaneros yelling "bam!" because this was some intense heat. I dug through my pocket to get some change to purchase another drink and to my dismay I was out of cash. No need to panic I thought, I've got cold beer at home.But I couldn't psyche myself out, this was Homer Simpson hot pepper shit.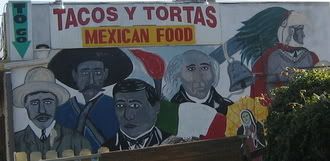 ok we get it you say,the salsa was spicy...but how were the tacos??
ok the tacos were frickin great. The al pastor was full of bits of sizzled pork and the asada was charred and just greasy enough. The salsa while kicked up to notches unknown to this taco reporter until now was still enjoyable. I like it when a taco can make me sweat it out a little and I'm proud to say these tacos had more going for them than that, the meats were well prepared and these were great tacos.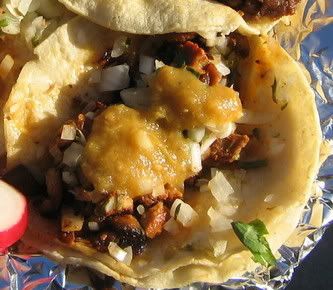 I was pleasantly suprised by Don Felix and I really shouldn't have been. The westside is on the map as far as tacos now. But dont take my word for it try it yourself my friends.
Don Felix Meat Market 3987 Sawtelle Blvd. Tacos are $1.25 each