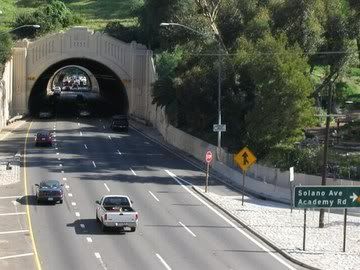 I had an hour for lunch and decided to grab some tacos in Lincoln Heights. Lincoln Heights is a small community just east of downtown LA and by all accounts quite a taco haven.
Heading east on Hill St I turned on the radio to hear Steve Jones from indie 103.1 singing some song about him being a fat sod and not getting any birds. I must have been distracted by the fat sod on the radio cuz the next thing I know I'm on the 110 north heading through the tunnel towards highland park.
It turns out that Hill St runs straight into the 110. Before this taco hunt I would rarely venture east of downtown for lunch and would usually stick to downtown eateries. I've come to realize that the downtown freeway on and off ramp design is FUBAR.
So there was a change of plans and with time being a factor I decided to pull off the freeway in highland park and stop at the first taco truck I saw.
Driving west on figueroa it didn't take long for a taco truck to come into view. I noticed a taco truck pulled up in front of a Foods for Less market at figueroa and 51st st.
As I walked up to the taco truck I noticed that the truck didn't have a name. I know it's bad luck to not name a boat but I'm not sure if the same rule applies to taco trucks. I dont think it should but if I had a taco truck I'd give it a name.
"your taco truck doesn't have a name" I said to the girl at the window.
"oh hehehehehe" she giggled
I was going to suggest a name. Perhaps Bandini's tacos but instead I ordered 3 asada tacos con todo and popped open a lime jarritos.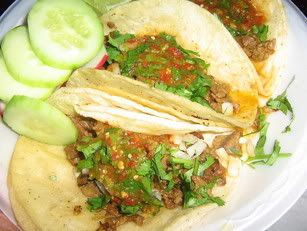 My tacos came on two large sized corn tortillas with a tomatillo and chile arbol salsa. I'm more of a fan of a classic taqueria red salsa but this salsa was pretty good. It didn't have any kick to it but it had some interesting flavors that went good with the beef.
As far as the asada It was stewed beef and quite tender. It was different from pretty much every asada taco I've had on this taco hunt in that it wasn't grilled or broiled and had a soupy texture to it. I enjoyed it but I wasn't overwhelmed. I'm hard to please tho and I'm stubborn when it comes to a great taco. I like a taco and a hot sauce to make me sweat a little.
I think I will make it a goal of mine to try every taco truck in Highland park before spring. Like a taco conquistador I will march through this interesting taco town and devour their tacos and make love to their women.
ok maybe not the make love part but i'm gonna eat alot of tacos.

unamed taco truck at figueroa and 51st st. tacos $1 each