The San Fernando valley is a frontier for taco establishments. From the carnitas michoacan huts to the trucks with blinking taco signs there is a abundance of taco destinations to choose from. But I didn't come for the carnitas michoacan this day nor was I on a hunt for a hidden taco truck in any back alley. I was on the hunt for a bull in the region. Rincon Taurino to be specific.
As you can tell from the name and the photos Rincon Taurino is another taqueria with a bullfighting theme. I was eager to test my theory that any taqueria with a bulls head mounted on the wall must have delicious tacos so I headed out to Panorama City.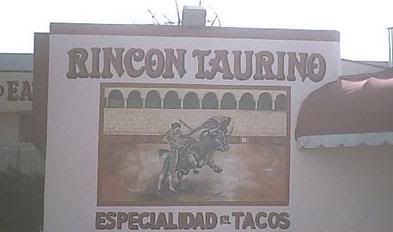 The girl at the counter didn't speak english so I pretended I didn't speak english either and ordered in spanish. Dos tacos de asada y un de pastor para aqui. After a brief staring contest with the bull head (the bull won) my tacos were ready.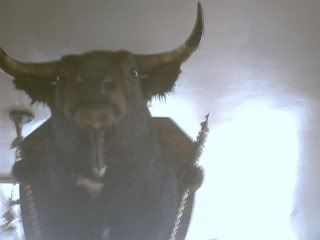 "hey gringo...you better like my tacos"
Looking for a place to sit I was surprised by how expansive the seating area was. Rows of booths with vinyl seats, stools propped up against wooden counters and several tables outside. They are open til 3am on the weekends so all this seating probably comes in handy for the late night club crowd looking for that taco fix.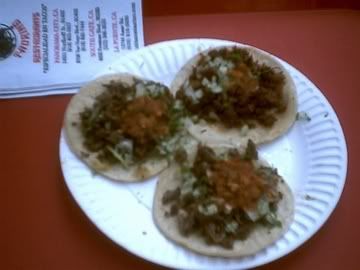 I bit into the al pastor first. Tender seasoned pork with a crunchy glaze. In a word, fantastic. Some of the best al pastor I've had. The salsa roja was a perfect compliment to this salty pork that i'm already starting to crave again.
The asada was equally impressive with heavily seasoned braised beef on top of tortillas seared with the taste of the grill. The salsa roja at Rincon Taurino has a real distinctive flavor and alot of kick that goes well with the fine cuts of savory beef.
So once again I've looked into the eye of the bull and have yet to be disapointed. The theory of the bull may have some truth to it.
One of these days I want to dress up as a matador and walk into one of these places.I would walk in and claim to be a real matador and offer to sign autographs only after I was brought a plate full of tacos and a rice horchata.
On second thought I'll just stick to eating tacos.

Rincon Taurino is at 8708 Van Nuys Blvd, Panorama City. Tacos are $1.15 each