Los Angeles is a taco town. New York and Chicago may quarrel over who has the better hot dogs and San Francisco may have the mission style burrito but when it comes to tacos Los Angeles has no equal. There are sunny days year round in Los Angeles which allow this taco environment to thrive and when the sun goes down it's never too cold to enjoy a plate of tacos at a taco truck or outdoor cart.
Which brings us to El Matador, a taco truck on Western and Lexington Ave in East Hollywood. This taco truck has been on my radar for quite some time and I was eager to test the asada and al pastor. After a cumbersome drive up western blvd during rush hour(seriously took me 45 minutes to go 2 miles) the truck came into view just before the 101 freeway parked on the property of an auto shop.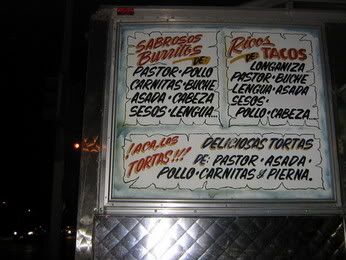 A no frills menu of tacos, burritos and tortas as well as your choice of meat keeps things quite simple when ordering. I almost went completely off the deep end to order a burrito de sesos(cow brains) but I caught myself just in time to order two asada tacos and one al pastor. My tacos came with onions, cilantro and a delicious spicy salsa roja. The salsa had alot of kick to it but also alot of flavor with a hint of grilled habanero pepper.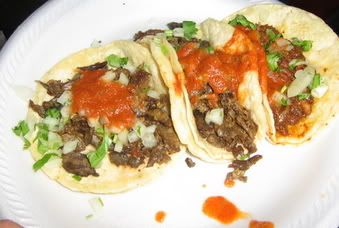 As far as the tacos the al pastor was a real winner. With a saucy blend of grilled onions and spiced pork combined with the salsa there was alot of flavor here. The asada wasn't far behind with charred beef with the right balance of moistness and crunch. No bits of fat on either taco could be found which is a testament to the cooks. These guys really know how to prepare their meats.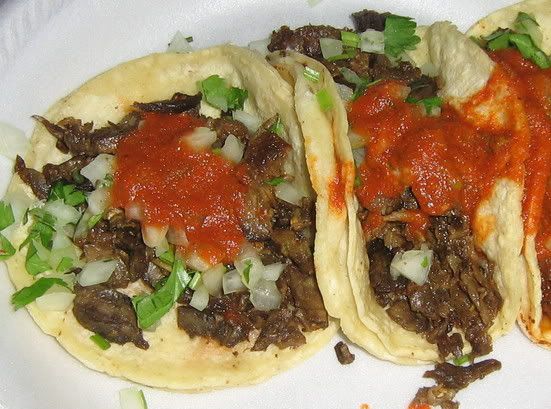 charred fine cuts of carne asada with a delicious salsa roja
I was tempted to order some more tacos but a line started to form and I decided my taco business was done here. I'll be coming back here again and again for the al pastor, charred beef and salsa roja but next time I'll wait for the traffic to subside.

1174 N Western Ave in East Hollywood. Nightly after 7pm. Tacos are $1 each