At first my goal with this blog was to find the perfect taco. But now my goal is to try as many tacos as possible and perhaps try every taco truck in Los Angeles.To be a taco conquistador.So when I was driving west on pico and fairfax and noticed a crowd at a truck with a Tacos y Cemitas poblanas sign I just had to pull over.
I was tempted to order a cemita since that seemed to be the popular choice with the other patrons but I ordered three asada tacos. My tacos came with cilantro piled high and a dab of salsa roja. About half way through the first taco I noticed that every bite had some fatty bits of meat and that the meat was getting tougher and tougher to chew. Make no mistake about it my friends this meat was tougher than wild monkey of borneo.I got through the first two tacos but half way through the third I was done.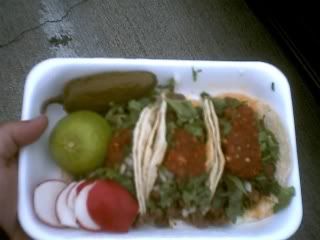 It became obvious to me despite the advertisment of tacos that the real draw here must be the cemita poblanas. Construction workers in pickup trucks pulled up and jumped in line as smoke bellowed out of the top of the wagon and the smell of milaneza on top of a domed roll with avocado y queso called out to me. I'll be back to try the cemitas but I can't recommend the carne asada tacos.
pico and fairfax 1 block west of fairfax. tacos are $1 each