The good thing about being on a taco hunt is that I am trying lots of different taco places. Before this taco hunt I would primarily stick with King Taco and Cactus Taqueria when I was in the mood for tacos. Now whenever I see a taco stand or truck I instinctively pull over.What I've learned is that tacos are alot like people. Not all of them are the same. Some tacos are boring just as some people are boring. Which brings us to Lawndale, a city not known for their tacos but known as being a boring city. Sorry if anyone from Lawndale is offended by that but it's the truth. Ya'll are boring.
But the tacos at Tacos La Cueva, a taco hut on Artesia Blvd in Lawndale are anything but boring. In fact they are the coolest kids on the block. Having seen this taco hut several times on my way to El Indio(mexican resteraunt with yummy enchiladas)I finally decided to stop and check it out and was pleasantly surprised how tasty these tacos were.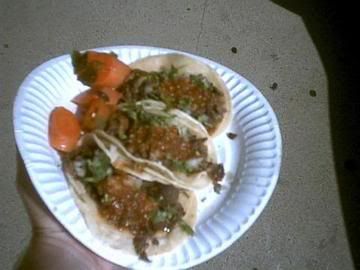 My tacos came filled with grilled asada beef that was dripping with flavor. The beef looked as if it were grilled and then braised in it's own fat. The end result was alot of flavor that dripped on to the corn tortillas that were just how I like them: soft and stained with salsa roja. Speaking of which, this salsa roja was tasty and had some kick to it. Not King Taco spicyness but it had just enough nip to it to make me reach for my lime jarritos. Top it off with some marinated carrotts that had some snap to them and I was in taco bliss my friends. While these tacos were not perfection rolled into tortillas they did meet the requierments I have set out for myself for what makes a great taco.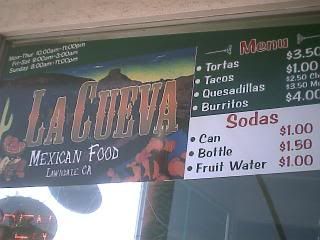 These were great tacos and I will be back to visit my friends at La Cueva and next time for some adobada or perhaps lengua. But until then another taco journey is complete and I will return to the east side of Los Angeles to put this south bay oddyssey in perspective.
La Cueva is at 4565 Artesia Blvd in Lawndale. Open til 3am fri and sat. 11pm weekdays and sunday. Tacos are $1 each