The eastside of Los Angeles is a hotbed of taco activity. From east LA to the neighborhoods surrounding downtown LA you are never too far from great tacos. King Taco may be the big name in town but when it comes to asada tacos and spicy salsa roja El Taurino stands right with them. In fact their salsa roja and tacos are so similiar in taste and texture that i'm not sure I could tell the difference between the two. Which is a good thing because I love King Taco. But El Taurino has been around since the late 70's serving up authentic tacos, sopes and tortas as well as their signature barbacoa(goat)dish long before King Taco and for that I salute them as the great taco matadors of this fine city.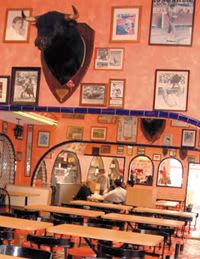 The inside of El Taurino is decked out with bullfighting imagery with several bull heads mounted on the walls sourrounded by paintings of matadors and scenes from bullfights. I've never been to a taqueria that had a bull head mounted on the wall that didn't have great tacos.What makes El Taurino's tacos so great is the triangle of flavor(tortillas, meat, salsa with major kick) that I have described in previous entries.The tortillas are oiled just right, the meat broiled and packed into the tortillas, the onions cilantro and salsa roja(very hot) smothered over the taco.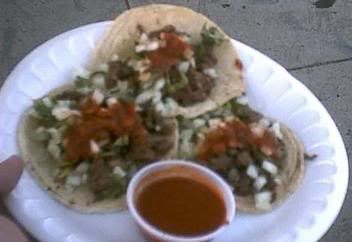 tasty asada tacos with firey red hot salsa roja
Having a bulls head mounted on the wall is a subtle way of telling the taco customer that they've entered hallowed taco territory. Most people wouldn't put much thought into the signifigance of a bulls head on the wall at a taqueria but I truly believe it's a display of confidence and I have admiration for such a bold move. If the tacos were not of high quality I believe I would be offended by this grand attempt of intimidation. But the tacos at El Taurino are a magnificent truimph in taste and life and holding one in my hand I feel as one with the Bull charging towards the red curtain of the matador, only to be slain. Because I can stop now and know that I have reached the taco pinnacle, held taco greatness in my hand and looked into the eye of the matador without reaching for that cold beverage.


the bulls are grand as the side of the sun
and although they kill them for the stale crowds,
it is the bull that burns the fire,
and although there are cowardly bulls as
there are cowardly matadors and cowardly men,
generally the bull stands pure
and dies pure
untouched by symbols or cliques or false loves,
and when they drag him out
nothing has died
something has passed
and the eventual stench
is the world.

-Charles Bukowski

El Taurino is at 1104 Hoover St one block south of Olympic. Tacos are $1.15 each. Beer is $6 a pitcher