There was a time when you couldn't get a decent street taco on the westside. The abundance of taco trucks with good carne asada and al pastor seemed to be exclusive to everywhere but the westside of Los Angeles. The outcry was similiar to those that would say that you couldn't good chinese food in West LA except the taco crowd had a gripe, you can get good chinese food in West LA.
But someone must have gotten the memo because the taco trucks are starting to put the westside on the map when it comes to tender carne asada and savory al pastor my friends. I no longer hear people say that " you can't get a good taco on the westside". Well, I do but then I get these people in a headlock until they admit that the westside does have good tacos.
But it's an understandable assumption. Lets face it, when one thinks of great taco trucks and taqueria's they think of East LA or Highland Park, the Valley,and even San Pedro. The westside of Los Angeles has long been neglected.
Which brings us to Tortas a La Pancha. This taco cart is stationed near the Mi-T-Mart on Santa Monica Blvd and Westgate Ave in West LA. This corner has seen it's share of taco trucks come and go.There was Ricos Tacos as well as Cocina Azteca de Oro. My recollection of these former taco trucks is shady at best with both experiences being after a night of drinking. I will refrain from a review on them because It was some time ago and I had one too many to accurately give a report.If you ever tune into this blog and you see an entry on how awesome Jack in the box's monster taco is you will know that your humble taco correspondent has had one too many cold ones and should be removed from his self appointed position as credible taco reporter.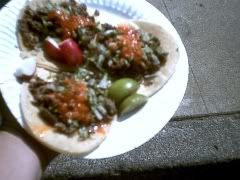 As far as the tacos they have asada, al pastor, cabeza, lengua, y suadero to which you can apply to tacos, tortas or clayudas. Excuse my ignorance my friends but I dont know what a clayuda is. But what I do know is that this is a damn fine taco cart. I ordered asada tacos and the beef was tender and salted and the salsa roja spicy enough to make we want more. Next time it will be the cabeza or suadero or maybe even a clayuda.

3/5 for Tortas a la Plancha's carne asada tacos
Tortas a La Plancha is at the corner of Santa Monica Blvd and Westgate Ave. Tacos are $1 each.