El Gavilan is a taqueria that was once a Mcdonalds. At one time there were big macs and mcnuggets being prepared were now asada,al pastor and carnitas sizzles. I salute Tacos El Gavilan for this valiant takeover and I wish more taquerias would take over Mcdonalds across this fine city. I wish I would have been present for this takeover and the day the burgers and nuggets stopped and the tacos and burritos took control of this land. A peace treaty with the mcdonalds faction probably read that the taco burger war was over but by this treaty the taqueria must keep part of the mcdonalds arches. How else can it be explained?
I thought of all this while waiting for my tacos. I might have done things differently if I was this taco general. I would have been a taco dictactor and refused to sign the treaty. But before I could contemplate it any longer my tacos were ready.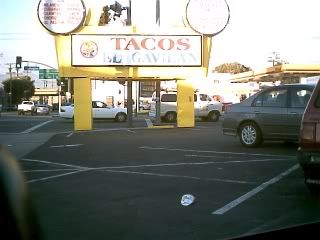 Tacos El Gavilan has quite a few salsas to choose from that are in large tin containers on the counter where you order. A salsa roja,salsa verde, and a pico de gallo as well as marinated carrots and jalapenos as well as onions and cilantro. I drizzled salsa roja on my tacos as well as onions and cilantro.
Like I've said before there are three musts to a great taco. Tortillas, meat, and salsa with some kick to it. If the tortillas are soggy it's because the meat is too greasy and the greatest salsa in the world couldn't save you and your taco will fall apart in your hand. If the meat is too fatty it can't be saved by soft homemade tortillas or a great salsa.
The corn tortillas were slightly greasy but firm enough to hold the fillings together.The meat was braised and very flavorul and the salsa roja? major kick!
Overall this was a great taco. As you can see the seasoning from the beef soaked into the tortillas which shows how much flavor is abound here.
I have undoubtedly had better tacos on this journey but there is something about the tacos at El Gavilan that makes you crave them. It may well be the spicy salsa roja or the heavily seasoned beef but I will have to return to El Gavilan again to better understand what makes these tacos so good.
3.5/5
Tacos El Gavilan is at 1900 S Central Ave, 90011(corner of Washington and Central) Tacos are 1.25 each