Nestled at the bottom of Silverlake hills on Sunset blvd is Tacos Delta, an authentic family owned mexican fast food resteraunt well known to locals as a place to get cheap and delicious mexican food. Whether it's breakfast, lunch, or dinner you can't go wrong with Tacos Delta. If you are like your humble taco correspondent and like to have a few too many cold ones then there is no better place to recover the next morning than with a bowl of their menudo. Everything I've ordered at Tacos Delta has been great, whether it was a burrito smothered with enchilada sauce and cheese or their tacos. Call me a Tacos Delta fan boy. Guilty as charged.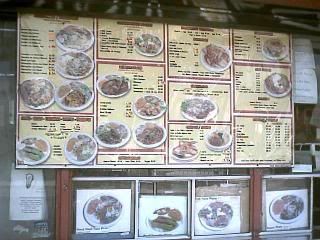 When it comes to soft tacos I usually like to keep it simple with: meat, onions, cilantro and hot sauce. Sometimes I like to mix things up and that's where Tacos Delta comes in. Each taco has lettuce, tomato and guacamole layered over charred carne asada(or al pastor) and two fluffy corn tortillas. Ordinarily I dont like tomato and lettuce on my tacos but it really works here with the guacamole being the force that binds the taco together. Squirt some hot sauce on top of all this messy goodness and you are in taco heaven my friends. At $1 each these tacos are not only delicious but also a bargain.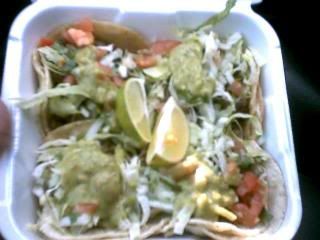 I enjoy the atmosphere at Tacos Delta. After you order your food from the window you find a seat behind the kitchen in the dining area which is under a tarp like ceiling. Depending on the time of day cracks of sunlight creep through and shine on to the cactus plants and tables adorned with candles and squirt bottles of salsa roja. There are long tables with bench seating as well as small tables so if you are with a group of people dont worry about lack of seating. Or if you're just by yourself and popping in for a quick meal noone will scream at you for sitting at the big table with other people if the small ones are taken. If they do scream at you just say "hey pal this is silverlake, not century city. Go dick cheney yourself."
So my friends If you havn't been to Tacos Delta I suggest you do so. You will not regret it. Whenever I'm eating within the cozy confines of Tacos Delta I may be just yards from the frantic hustle of Sunset blvd but I feel miles away.

3/5 for Tacos Delta carne asada tacos
Tacos Delta is at 3806 Sunset Blvd in Silverlake. Tacos are $1 each