There is a reason that La Playita is always bustling during day and night. They crank out alot of food at a dirt cheap price. Tacos are $1.25 each and twice the size of those at most taquerias . Burritos are packed with meat, rice, and beans and only $2.25. A small shrimp cocktail is packed with shrimp and topped off with a slice of avocado for only $3. Your dollar goes a long way at La Playita my friends and if you're on a budget and in the mood for a couple tacos and a seafood cocktail this is the place for you. The atmosphere at La Playita can go from calm to frantic in a matter of seconds. The line to order often trails on to the sidewalk and sometimes to the curb. One minute you're in line waiting to place your order and the next minute some kid in a big wheel is approaching at a high rate of speed with a baby carriage trailing him. I dont think I've ever been waiting in line where some kind of mechanical contraption didn't come rolling down the sidealk to break up the line. Whether it was a baby stroller or a someone trying to sell you a bicycle they just nicked from the bike racks at the Big Lots there is always something going down at this Venice/Santa Monica border Taqueria. When you pick up your food there isn't much seating but you'll find a long bench that's adjacent to the Auto Mechanic next door that will suffice.If the bench is full there is plenty of counter space to lean up against.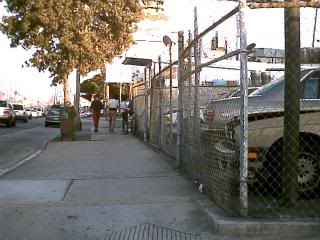 In the evening sit back and enjoy your tacos and seafood cocktail and be glad you aren't stuck in the Lincoln Blvd gridlock. On weekends and lunch time expect a long line but it moves quickly.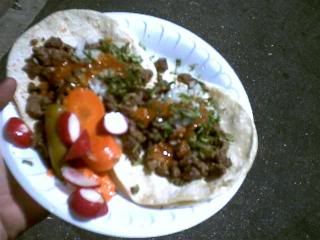 As far as the tacos two of them take up your entire plate and the beef that falls out of your taco you can scoop up with the carrots or radishes. Or if you havn't a care about how you comport yourself public-wise just use your fingers.

2.5/5 for La Playita's carne asada tacos
La Playita is at 3601 Lincoln Blvd, Santa Monica. Tacos are $1.25 each