Sometimes I wonder why Lincoln blvd doesn't have more taco trucks. With the rush hour traffic you'd think that taco trucks would do quite well. Then again not everyone is as crazy about tacos as your humble taco correspondent. If it were up to me there would be a taco truck every hundred feet and I would hold an annual event called the Lincoln taco run. Each contenstant would start at La Playita and then run down Lincoln blvd stopping at each truck to eat a taco all the way to Brennan's Irish Pub.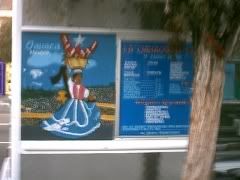 But I wasn't on a taco run this day. I was on a bike ride actually and I saw one of my favorite local taco trucks, La Oaxaquena. So I stopped in for a few carne asada tacos.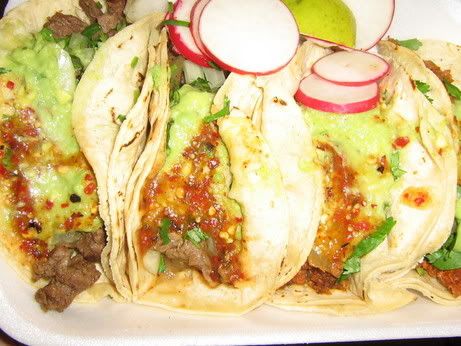 asada and al pastor tacos
The tacos at La Oaxaquena remind me of tacos i've had in Tijuana. Each taco comes with grilled onions and guacamole salsa as well as a salsa roja on top of charred meat. As far as tacos go I usually like to keep it simple with onions, cilantro and salsa but I can make exceptions. Guacamole on asada tacos is traditional when it comes to tacos in Baja and it really works at La Oaxaquena. You get that baja taco flavor.
My only gripe with La Oaxaquena is the consistency. I've had 4 star tacos as well as 2 star tacos.I've had meat that was oozing with flavor and tenderness and meat that had grizzle and fatty bits . As a taco reporter I must point this out for future taco goers. Overall this is one of my favorite local taco trucks but by no means on par with some of the taco royalty I have already visited on this journey.
This is a taco hunt but I should mention that the carne asada burrito at La Oaxaquena may be the best Venice has to offer.
Update 12/5 Went back to La Oaxaquena and ordered the carne asada and al pastor tacos. Asada was tender and juicy. Al Pastor was forgettable.

2.5/5
La Oaxaquena is on Lincoln Blvd, one block south of Rose Ave in Venice. Tacos are $1 each, Burritos $3 each