La Isla Bonita might be my favorite name for a taqueria or taco truck. This Venice taco truck has gained it's following by serving up tasty mariscos and seafood tostadas as well as tacos and burritos.Your tacos at La Isla Bonita come with your choice of meat as well as onions, cilantro, salsa roja and pinto beans. Yes pinto beans! It's a nice touch and adds something to the overall taste of the taco. I've never asked for no pinto beans on my tacos and why should I? I'm actually afraid to find out what would happen if I did. I could get banned. The pinto beans on the tacos seperates La Isla Bonita from the rest of the local taco competition and it gives them their character. Who am I to defy this? I am just an anomalous taco reporter.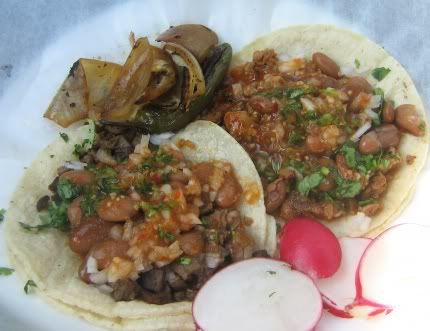 asada and al pastor
No trip to La Isla Bonita is complete without sampling their mariscos. Whether it's a shrimp tostada or cocktail or a fish ceviche tostada you can't go wrong. Especially on a saturday afternoon before a pub crawl along main st. Actually if you are going on a pub crawl stay away from mariscos and just load up on carbs with tacos and burritos.
it's Venice so you might see this guy
La Isla Bonita is parked on Rose Ave one block west of 4th St. Between noon and 2pm there is a steady crowd with workers from Main st and venice slackers enjoying the mariscos and taco truck fare. On the weekends there is a more relaxed scene with locals and mexican family's. I suggest finding a parking spot near the taco truck so you can use the hood of your car to place your plate of tacos, mariscos and bebidas. As far as drinks go they have mexican coke as well as jarritos to choose from.

3/5 for the asada tacos at La Isla Bonita
La Isla Bonita is on Rose Ave one block west of 4th st in Venice. Tacos are $1.25 each