I was driving down magnolia blvd in Burbank when I saw a taco stand out of the corner of my eye. I quickly signaled and changed over 2 lanes and pulled over to park right in front of the car wash that this hut was nestled on. Before I started this taco hunt I wouldn't have been able to pull off that kind of maneuver. I probably would have noticed the taco hut only after it was too late. But now my taco vision is impeccable. I'm in the zone. The taco zone.
Mt first thought was El Taco Llama! What a name! Do they have llama tacos? isn't that illegal? I didn't want to ask so I just ordered 3 asada tacos. My tacos came quickly and I sat there in the hot sun eating my tacos and drinking a lime jarritos.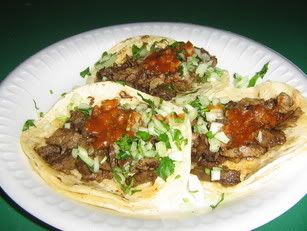 With confidence I can say that El Taco Llama have at least the best carne asada tacos in the valley. While I have only just begun my journey to sample the taquierias of the valley it will take alot to beat El Taco Llamas asada tacos. There are three musts for a great taco: the tortillas, the meat and the salsa. The tacos at El Taco Llama have all three. The tortillas have just the right amount of softness, the meat is tender and flavorful, and the salsa has flavor and kick to it. There is a smokey flavor to the meat that not many taquerias have. I definetly will be returning to try the other meats on their menu.
After finishing my tacos I pondered what had just happened. Could these tacos be better than King Taco? I unexpectedly stumbled upon this taco sanctuary and I had to gather my thoughts as to where these tacos rank with the tacos which I have long believed ruled the city. All the similarities were there with the spicy red sauce and marinated tender meat but I was not ready to confront this dilemna and decided that a return to King Taco at a later date could help appease my curiousity.

El Taco Llama is on Magnolia Blvd in North Hollywood, one block east of Cahuenga. Full menu of mexican food. Tacos are $1 each