After a weekend of binge drinking your humble taco correspondent was back on the taco beat. I got a report that some tasty al pastor tacos were being diced up in East Hollywood at Antojitos Denise's and I fired up the hog.
Right about now you are probably thinking " hey does this Bandini kid ride a hog to each taco stop". Maybe I do my friends or maybe I just want to embellish my taco journey but what's important is that your tacos are my tacos. This isn't fantasy land or Narnia where I am reviewing tacos that noone will ever be able to sample.There is no talking pig begging for a stay of roasting.If there was I would laugh at him anyway and say aha! you will be sizzling on my plate soon and I will eat you al pastor between tortillas you villanious swine!. What did you do to warrant such a demise pig? I will dip you in tasty salsa roja you degenerate pig and your kin will know that Bandini the swine impaler has devoured you!
But there was no talking pig my friends just a great taqueria. The taco counter inside was welcoming and I sat down and ordered my tacos. My tacos arrived on a glass plate with some chips and salsa roja. Ths is unusual for taquerias as I am accustomed to paper plates but I havn't been to any taquerias that had a lunch counter style dining area. The pork was tender and glazed, the onions carmalized and the sweet salsa roja completed the perfect pork taco. I enjoyed it so much that I forgot to take a photo of my tacos. What also prevented me from taking a photo was how close the counter was to where the tacos were being prepared. Any such photo attempts would have brought about questions. What if this is against the rules? I am a subtle taco hunter. What if I was captured for such an offense? I would be wrapped around the spit and sliced and offered for taco fare: tacos al bandini. I would be squirming there trying to plead my case like the nefarious swine I had already devoured.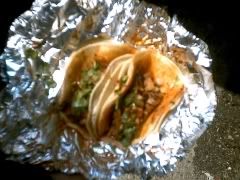 But this isn't make believe. It's a taco hunt.I ordered two more al pastor tacos to go and got my photo.
Now I crave the sweet glaze of the al pastor and a thousand marching revengeful swine couldn't keep me away from some of the best tacos al pastor LA has to offer.
3.5/5
Antojitos Denise's as at 4930 Hollywood Blvd. Tacos are $1 each