When I think of Los Angeles and tacos I think of King Taco. This chain of authentic mexican fast food resteraunts started off as a taco truck in East LA. Now there are over 20 locations. King Taco has conquered the city and we Angelenos bow down to their carne asada and al pastor tacos as well as their sopes and burritos.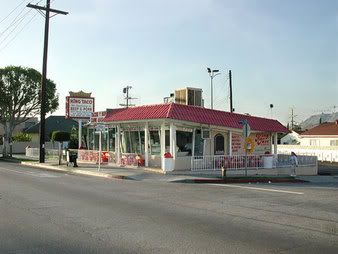 I decided to go to the Cypress Ave King Taco location. This is my favorite king taco resteraunt. Mainly because of it's neighborhood feel but mostly because of the abundance of taco competition in the area. It's five minutes from Highland Park, the taco capitol of LA and a much smaller venue than the other King Tacos. The good news for your humble taco correspondent is that lines are never as long as they are at the other King Tacos which means one can "dos mas" if you feel so inclined. Veteran taco truck patrons will be farmiliar with "dos mas" but it's hard to pull it off as a gringo. You order your 3 tacos para aqui, munch them down with a beverage and then make eye contact with the man or lady behind the counter and hold up two fingers and say dos mas. If the response is "de que" you simply say "de asada con todo". But hey..dont get too brave with the espanol because they might ask you further questions in spanish and then the gig is up. Your "dos mas" privledges at the taco truck are finished and you have been exposed as a desperate gringo with no patience and a proclivity for deception. To quote Walter Sobchak "this isn't Vietnam, there are rules"
Each taco comes with onions, cilantro and king tacos famous hot sauce.The carne asada is grilled to perfection with king tacos secret recipe. The al pastor is also tender and flavorful and always fresh and tastes like it's just been sliced from the spit. It's also a rare sight when you find a piece of fat on your taco. I call these pieces of fat on tacos "fatty bits" you can call them what ya like just dont recommend me a taco truck with lots of fatty bits. Some fatty bits are ok but when the taco has too many of them I just feel like i've been given the harshest gringo treatment that one can imagine. I start to question my character and what I did to offend the cook and how I can repair our relationship. So dont put me in that situation. I may be your humble taco correspondent but i'm also emotionally fragile.
So my friends if you have not been to a King Taco and you like tacos then what are you waiting for? I think most people who like tacos and that live in LA have already been to this fine establishment and are probably thinking "king taco? is that all you have for us Bandini? Why dont you start a burger hunt blog and then go to in n out burger?"
My response is that this is a taco hunt and the time will come to hunt down the great hidden taco trucks of our fine city and when that day comes your humble taco corespondent will report on these experiences. So let it be known that I am Bandini the taco hunter and no taco establishment is safe from my gab and vigor for good tacos.

4.5/5 for King Tacos carne asada and al pastor tacos.
King Taco is at 1118 Cypress Ave, Los Angeles 90065. Tacos are $1.25 each visit www.kingtaco.com for other locations.